If I were to think of treasure-hunting experiences that both beginners and pros love, using a handheld metal detector would top my list. However, not all handheld metal detectors can accurately detect metals in any environment like heavy metal detecting devices. Also, with so many models in the market, choosing the best handheld metal detectors can be difficult if you don't know where to start.
Therefore, in this in-depth article, I have handpicked the best handheld metal detectors on the market to reduce your confusion, hassle and time when selecting the one that meets your standards among the various models and functionalities. Delve in!
Best Handheld Metal Detectors
| | | | |
| --- | --- | --- | --- |
| | | | |
| | | | |
| | | | |
| | | | |
| | | | |
1. Garret Pro-Pointer AT Waterproof Pinpointing Metal Detector
Sale
Garrett 1140900 Pro-Pointer AT Waterproof Pinpointing Metal Detector, Orange
Fully waterproof to 10 feet with orange color for added visibility underwater
Maximum Sensitivity for improved detection of nuggets and other small targets. Choose from three Sensitivity levels
Fast Retune: Quick button press instantly tunes out environment or narrows detection field for precise pinpointing of larger targets
Garrett Pro is the best shot if you are looking for accuracy in locating your treasure buried in the ground. One of the best features of this device is that it is waterproof. I fully submerged it up to 10ft in the swimming pool to find my gold earrings. It is also coated with bright orange color to enhance visibility in low-light and underwater situations.
Image Source: metaldetectingintheusa.com
This metal detector has improved maximum sensitivity with three different levels of sensitivity, specially designed to make finding smaller objects easier. So if you are looking for a handheld detector that you can adjust, you will be satisfied with Garrett Pro's ability to distinguish between large, medium, and small metal objects.
If you are having trouble detecting objects because of environmental challenges, this device has a quick retune that you can use to tune out any environmental inference instantly. This will help you to pinpoint precisely where the metal object is.
The scan has the ability to detect objects up to 360 degrees; therefore, you can side scan without the stress of having to move in all four directions. This ensures you don't miss out on a small item. Additionally, the Garrett Pro handheld detector comes with a belt holster, a bright LED flashlight, and a nine-volt battery.
2. Zircon MetalliScanner M40 Metal Detector
Zircon MetalliScanner m40- Handheld Electronic Metal Detector Use on Dry Wall, Concrete, Lathe and Plaster, Stucco and More, Battery Included,yellow -67044
Zircon's MetalliScanner m40 metal detector locates ferrous (magnetic) metal and non-ferrous (non-magnetic) metal
Quickly and easily detects metal in wood, drywall, paneling, tile, stucco, plaster, concrete and other non-metallic surfaces
Works as a great stud finder for plaster walls, as well as finding rebar in concrete
Easily finds plumbing, ductwork, rebar, nails and screws in your walls, floors and ceilings
Now in easy open packaging, 9 volt battery included
Zircon MetalliScanner is the perfect tool to use if you want to detect metals in different environments, outdoors and indoors. I used it to detect metals stuck in wood, tiles, drywall, plaster, and other non-metallic surfaces. This was made easy by the pinpoint scanner that located metal objects such as nails stuck in the walls. The scanner helps you to calibrate the metal for maximum sensitivity allowing you to pinpoint the metal precisely.
Image Source: manualslib.com
It has a wide scan that you can use to estimate metal through concrete, walls, or any other non-metallic surface. The scan enables you to measure wider surface areas and scan for any metals left from construction. It is powerful enough to detect through plaster, lath, and wood.
The Zircon can detect ferrous metals up to 4 inches. However, for non-ferrous metals, it can only detect up to 2 inches. Also, it must have a 9-volt battery to operate. But I noticed the battery drains even if the device is not in use.
3. Kuman Pin pointer Water Resistant Metal Detector
Sale
Kuman Pin pointer Water Resistant Metal Detectors with Holster Treasure Hunting Unearthing Tool Accessories Buzzer Vibration Automatic Tuning KW30
360° side-scan and Pinpoint tip detection. Please kindly note that this is kuman brand, the only store name is kumanshop, the other is unauthorized product. Our pinpointer metal detector kit include the waterproof case, it is freely for you to use underwater.
High Sensitivity: High Sensitivity for improved detection of small targets, it can work indoors, outdoors, on sand, lawn or in soil, locate coin, silver, jewelry and gold with speed and accuracy. Three sensitivity levels with different LED indicators light, audio and vibrate alert.
Ratio audio and vibration indicators.
Size:215.5*41.5*43.52mm
One- One-touch operation:Quick button press instantly tunes out environment or narrows detection field for precise pinpointing of larger targets
This handheld metal detector has a 360-degree side scan and pinpoints detection. To search for objects underwater, I used the pinpointer with a waterproof case. It is safe and efficient. Also, it has three level sensitivity settings you can use for different detection distances.
Image Source: ebay.com
Kuman Pin pointer Water Resistant Metal Detector has high sensitivity making it an improved option for the detection of small metallic objects. Use it on sand, soil, or lawn to detect gold, silver, coin, or jewelry quickly and accurately.
Other features include the single-button press that instantly narrows the detection field for precision, LED indicator lights, and audio and vibration alerts.
4. RM RICOMAX Metal Detector Pinpointer
RM RICOMAX Metal Detector Pinpointer - [3 LED Range Indicators & Buzzer Vibration Sound] [IP66 Partially Waterproof & 10.8 Inch Lightweight] Handheld Metal Detector Pinpointer with Belt Holster
🌞🌞 [3 Sensetivity Levels For 360° Area Of Detection] - There are three sensitivity levels with different flashlights (3 LED lights), ratio audio and vibrate alert to the different distance between the sensor and objects. The closer they are, the louder it sounds and the green LED lights to flash one after the other. Avoid lots of unnecessary digging. Spare your time outdoors for a memorable treasure hunting!
🌞🌞 [Simple One-Button Operation Easy To Use] - Quick button press instantly tunes out environment or narrows detection field for precise pinpointing of larger targets. When the detector approaches a metal object, it automatically flashes, sounds an alarm and vibrates. All you need to do is turning it on and starting hunting treasures! Perfect for various people like kids, men, and seniors.
🌞🌞 [Compact & Lightweight Portable Design] - The length and weight of the metal detector pinpointer are only 10.8 inches and 5.9 ounces respectively. Perfect handheld size contains multiple modes which are professionally designed as small as possible. The pin pointer part of the detector is IP66 waterproof design. You can sink the probe into water and detect whether there is metal in it. NOTES: Please DO NOT sink the whole body into water.
🌞🌞 [Accurately Detect Various Types Of MetalL] - Helps you rapidly and accurately uncover coins, gold, silver, relics, jewelry and other goodies in the ground by targeting various types of metal objects about 3.5" from the wand in variety of hunting conditions ranging from highly mineralized ground to saltwater-saturated sand. Achieve small-scale precise positioning that full-size metal detectors cannot do.
🌞🌞 [Perfect Gift For Kids] - RM RICOMAX pinpointer metal detector is a perfect gift for your kids with a small size . Let them go treasure hunt and help them exercise their exploratory skills and curiosity. What a meaningful gift! Meanwhile, it includes 1x Belt Holster, 1x Carrying Bag, and it could be taken to everywhere you want.
RM RICOMAX Metal Detector Pinpointer features a pinpointer that you can use to detect different types of metals up to 4 inches deep. It can detect jewelry, relics, and other rare metals using the three different sensitivity levels. Each sensitivity level is adjustable and can detect smaller objects with the help of the 360-degree scan, ensuring to distinguish trash from treasure.
Image Source: brunei.desertcart.com
I could power the device on and off within seconds using the one-button operation. To use the device, I powered it on and waved it around the area I wanted to search. I noticed the LED light lit up when the device made a sound indicating it had located an item. This LED light provides three different indicators to ensure you don't miss anything.
This LED flashlight also comes in handy when searching in dim lighting conditions. Therefore it is perfect for finding treasures in the dark or early in the morning
RM Ricomax handheld detector is portable, small, and easily fits into a bag for on-the-go searching. It has an overall length of 10.8 inches featuring an unsophisticated design. This design qualifies it to be a junior metal detector, making it a perfect gift for your kids.
This handheld metal detector has a waterproof exterior to ascertain that you can use it outdoors and indoors. This extra protection ensures you can use the device outdoors, especially in humid or rainy climates. But do not submerge the whole device in water.
It also comes with a belt holster, making its transportation more effortless, and its weight of 5.9 ounces makes it comfortable to carry for long periods.
5. Treasure Products Vibra-Tector 740
If you are a treasure-hunting enthusiast and are thinking of getting a handheld metal detector, then you should consider this Vibra-Tector 740 from Treasure Products. One exciting feature I love about this device is its unique 'Tilt On and Off' system, which eliminates the need for a power switch. It incorporates an automatic microprocessor motherboard which eliminates the need for tuning.
Image Source: amazon.it
The entire device is fully waterproof, and you can use it in every environment, including fresh or seawater. This makes it a perfect tool for metal detecting at the beach. Thanks to its Pulse Induction technology, I was able to treasure hunt in different locations, including mud, dirt, grass, and sand. I noticed that this Vibra-Tector emits signals with vibration pulses, and its LED also flashes when you approach a target. The closer you get, the more intense the signals become.
It is easy to carry around with a weight of 1lb, an overall length of 17 inches, and a 4-inch coil. Other exciting features include a low battery indicator, belt, and wrist strap.
Factors to Consider Before Purchasing the Best Handheld Metal Detector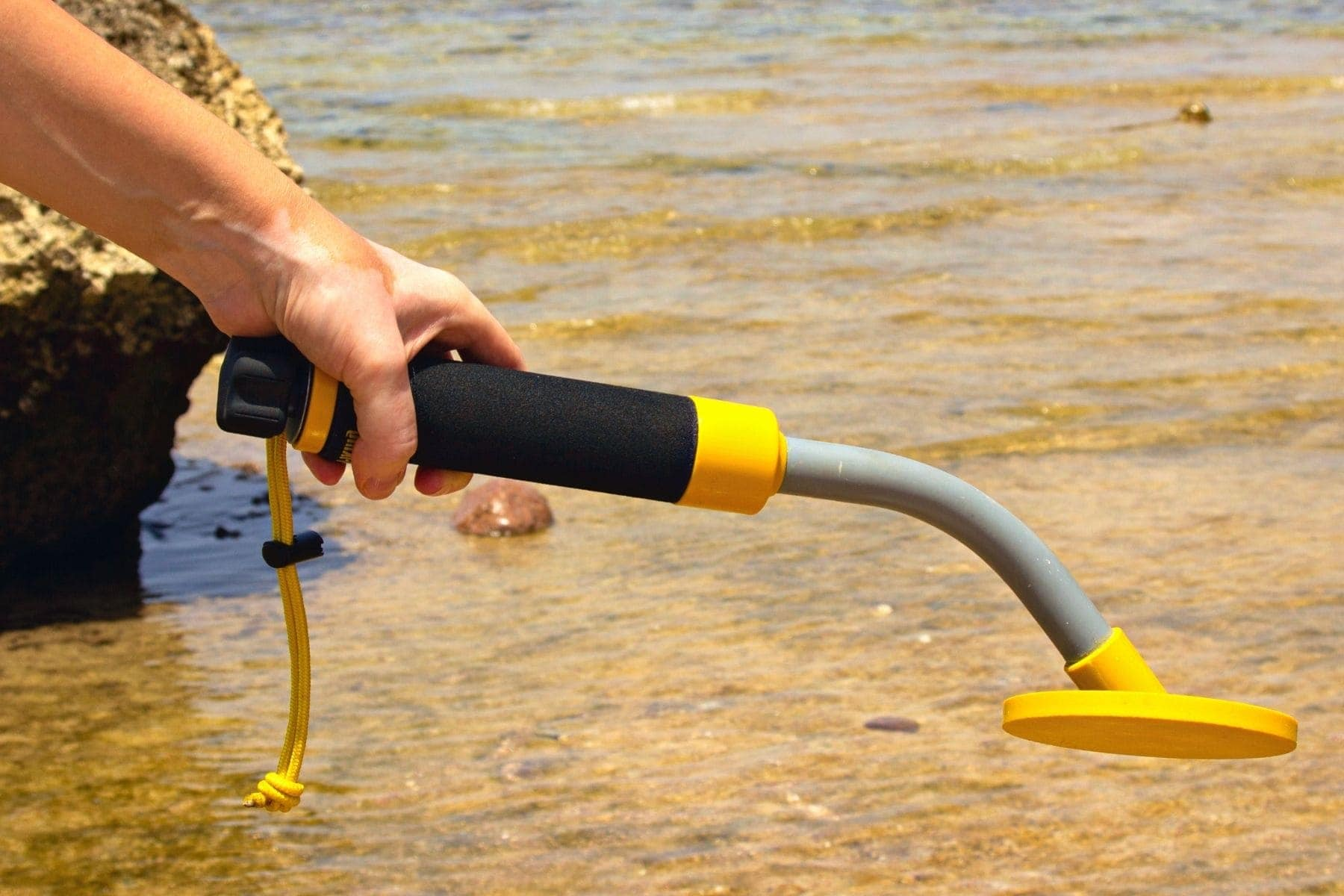 Image Source: divein.com
When it comes to choosing the best handheld metal detector, there are many features you can consider. Some could be more important than others. Some of the things to look out for include the following:
1. Price
The more expensive the detector is, the more it can distinguish between trash and treasure. So while you should not spend thousands on your first handheld metal detector, you don't want to go too cheap either. Spending more on well-known brands will save you time and disappointment in your metal-detecting hobby.
2. Size
A handheld metal detector should be lightweight and compact, so size is an essential feature to consider. There are models as small as five inches in length and others as long as 15 inches. But all models can fit in a carrier bag for easy transportation. However, depending on how you want to use your handheld metal detector, one size may suit you better than the other.
3. Metals Detected
All handheld metal detectors can detect ferrous metals. These are metals containing iron, like alloy steel and carbon, and they are magnetic, so a metal detector can use electromagnetic induction to detect them. Conversely, some handheld metal detectors can also detect non-ferrous metals, including tin, brass, copper, aluminum, and zinc, though they are not magnetic. For a more versatile handheld metal detector, choose a model that can detect both ferrous and non-ferrous metals.
4. Sensitivity Settings
When searching for specific metal objects, it is necessary to adjust the detector's sensitivity. A higher sensitivity setting will enable you to locate even the weakest electromagnetic fields to find the smallest or deeply embedded objects. However, in some cases, a higher sensitivity setting can make you hit on many metals in the ground, such as minerals, making it challenging to locate valuable items. Therefore to zero in on larger metal pieces, you can tune down the sensitivity.
Some devices feature up to 50 adjustable sensitivity levels to enable you to find the perfect setting for whatever metallic item you are looking for and in whatever environment you're searching.
5. Other Important Features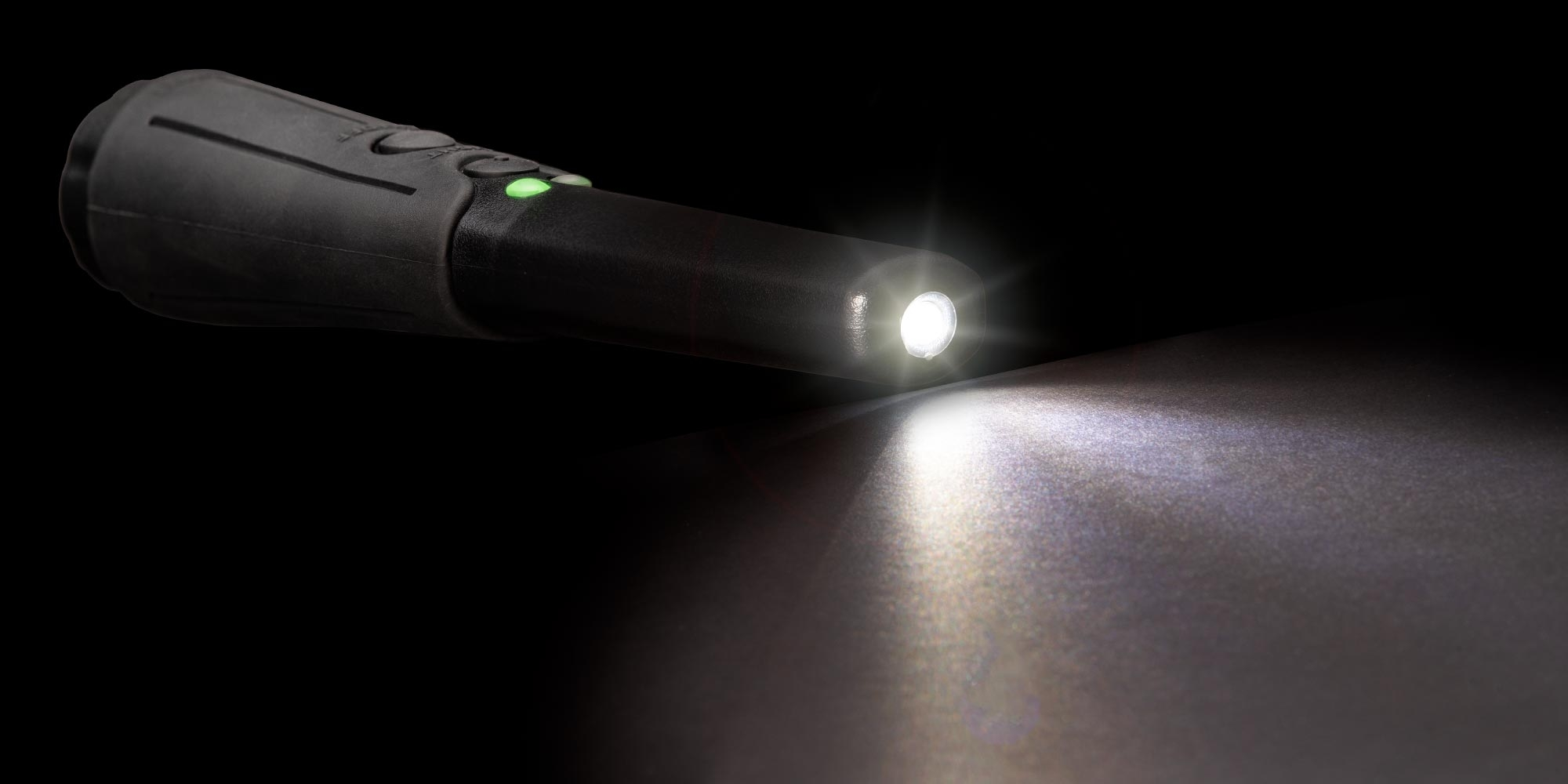 Image Source: garrett.com
A) Alerts
A handheld metal detector normally has an audio alert to let you know when it has detected an item. Some models also have an additional vibration alert, and you can choose to use one or both alerts, depending on which will work more efficiently in locating where the treasure.
B) Light
If you normally go treasure hunting in low-light conditions, it can be challenging to see what you are looking for. Also, holding a separate flashlight and the metal detector at the same time can be tricky.
Fortunately, there are handheld metal detectors equipped with light to provide illumination in low-light situations without having to use a separate flashlight. Choose a model with a LED light, a brighter, more durable option.
C) Scraper
When searching for buried treasures in the soil, you need a tool for moving soil and dirt aside as you pinpoint the exact objects. You can use a trowel or spade, but it can be challenging to hold your detector and the digging tool at the same time.
Luckily, some handheld metal detectors have built-in scrapers in addition to LED lights. You can use the scrapper to move dirt and soil as you locate a specific metallic object.
D) Waterproof construction
Depending on the environment and the types of items you are trying to locate, you may need a handheld metal detector that you can use in water bodies. Therefore, it is important to choose a waterproof model. Most detectors are waterproof to a limited depth, so ensure you are aware of how deep your detector can be effective.
Also, note that not all waterproof models are fully waterproof. While the probe tip is typically waterproof, the handle may not be. Therefore, submerging this kind of detector in water could damage its inner workings. On the other hand, fully waterproof handheld metal detectors can be fully submerged up to the designated depth.
E) Carry clip
Since you may be using your handheld metal detector outdoors in different environments, it is advisable to have a convenient way of carrying it. Some models have a clip that you can use to attach the device to your belt loop for easy access. Also, other models include a holster belt, and you won't need belt loops to carry the detector.
F) Battery-saving features
Handheld metal detectors run on batteries that must be replaced. Choose a model with a battery-saving mode to ensure your battery doesn't die in the middle of a treasure hunt. These models have indicator lights that alert you when the battery is low. Additionally, these detectors may have an automatic shut-off feature that turns them off if they've been inactive for some time to conserve the battery.
Frequently Asked Questions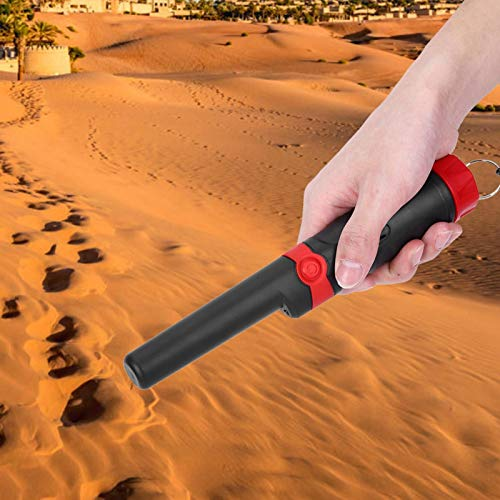 Image Source: outdootp.shop
1. Can I use a waterproof handheld metal detector in salt water?
Most waterproof models are suitable for use in saltwater bodies. However, some detectors are only to be used in freshwater. So, if you are a treasure hunter at the beach, opt for models that specifically state they can be submerged in saltwater.
2. Can a handheld metal detector's pinpointer detect gold?
A good quality pinpointer will find gold pieces down to 2 or 3mm in size. It can also pick up gold rings and jewelry as well. The problem with using pinpointers as the main means of detection is that it may be difficult since they are not accurate in differentiating gold from other metal objects. Also, pinpoint detectors are great to use with traditional metal detectors to enable you to figure out exactly where to dig when you find something.
3. Is a handheld metal detector safe for kids?
Most time, a handheld metal detector should be the least you have to worry about. The objects a kid can find using the metal detector should be your worry. Handheld metal detectors are safe if you consistently monitor the kid.
Also, the places you choose for the kids to go treasure hunting might lead to safer results. For instance, you are bound to find safer materials on the beach than under a bridge on a riverbed.
An entry-level handheld metal detector is the best option for kids and young adults because they are bound to discover less, significantly reducing the possibility of a dangerous find.
 Featured Image Source: 911metallurgist.com