Metal detectors are electronic devices with a huge transmit coil and a second coil of wire, sometimes known as a receive coil. It emits a sound to warn you of the presence of hidden metals. What do metal detectors detect? If the metal is conductive, there is a good likelihood that a detector will find it. Metal Detector can detect:
Aluminum
Brass
Bronze
Copper
Gold
Iron
Lead
Nickel
Silver
Tin
Zinc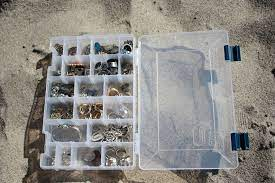 Image Credits: www.journalofnetworks.org
Metal objects such as gold nuggets, coins, rings, jewelry, caches, and accessories are detected easily with the cheapest variants ranging from $100 to $300. A more expensive model will set you back anywhere between $1,000 and $5,000.On the other hand, metal detectors can't find everything that's buried. Electromagnetism is used in metal detectors. They emit electromagnetic fields and listen for any waves that return from electrically conductive objects.
What Do Metal Detectors Detect
A metal detector typically detects three main metals, namely stainless steel, non-ferrous metals, and ferrous metals. Each one is unique in its composition.
1. Stainless Steel
This metal has very little conductivity and is the most difficult to detect. It's commonly found in various products, including automobile parts, kitchenware, and tools.
2. Non-ferrous Metals
These metals have no magnetic characteristics at all. Brass, gold, silver, and zinc are common examples. Specific settings are used with a metal detector to locate them. When these artifacts are discovered, they are considered rare and are usually valuable. This category includes aluminum.
If you want to search for and detect non-ferrous metals, you'll need to alter your metal detector's sensors. While some of these devices have pre-programmed modes, others require human adjustment of conductivity and sensitivity parameters.
3. Ferrous metals
Ferrous metals are present in cast iron and carbon steel products. The majority of such materials are typically utilized to make jewelry, cookware, or basics. In addition, their magnetic threshold is often fairly high, implying that their conductivity is also quite high.
Ferrous metals are the simplest to find using metal detectors due to their magnetic properties. These materials will be detectable regardless of the settings on your metal detector. On the other hand, objects manufactured with this substance have little to no financial worth.
What Metal Detectors Can't Detect
Stainless steel is difficult to detect with metal detectors because of its low electrical conductivity. Due to its low magnetic permeability, stainless steel does not emit a strong enough signal to be detected. Metal detectors will not be able to locate the following items:
Stone figures
Paper
Gemstones
Pearls
Bone
When a metal detector finds something, it usually makes a noise. That's why folks on the beach wear headphones attached to their metal detectors. They know a treasure may be right under their feet when the metal detector beeps!
Image Credits: toddresearch.co.uk
Metal detectors of various types can also be found at airports and other structures. They're usually big and shaped like doors. In addition, security officers sometimes carry Metal-detecting wands. These search for guns and other potentially dangerous materials. So, how do these things distinguish between metal and non-metal?
The majority of metal detectors employ VLF (very low frequency) technology. Two coils create an electromagnetic field in this technology. The magnetic field of an object that conducts electricity is detected when the field detects it. When the detector locates a metal object, it sounds an alarm.
To be detected by inexpensive metal detectors, objects must be quite close to the surface, within a foot or so. Metal detectors with more advanced technology may find items buried considerably deeper. Advanced metal detectors can also reveal the types of metals present beneath the surface.
Parts of a Metal Detector
A typical metal detector is small and light, with only a few parts—a stabilizer to keep the unit steady while sweeping it back and forth. The circuitry, controls, speaker, batteries, and CPU are all housed in the control box. The shaft is the connection between the control box and the coil. It's usually adjustable so that you may set it to a suitable height for you.
The search coil, also known as the "search head," "loop," or "antenna," is the portion that detects the metal. Most systems have a headphone connector, and others have the control box below the shaft and a small display unit above it.
How to Use a Metal Detector
A metal detector is easy to use. After turning on the unit, slowly move it over the area you want to search. Next, sweep the search coil back and forth over the ground in front of you. An audible signal occurs when you pass it over a target object.
Modern metal detectors have displays that show the type of metal detected and the depth to which the target object is buried. Metal detectors use Very low frequency (VLF), Pulse induction (PI) and Beat-frequency oscillation (BFO) technologies.