Have you recently bought a pressure washer, and you do not know how you can go about using it? Or do you want to know how a pressure washer works to gain the skill? Either way, we are here for you; we will discuss how a pressure washer works so that the next time you are using your pressure washer, you handle it like a pro!
Before we get into details of how a pressure washer works, do you know what a pressure washer is? If not, let us give you a brief description so that you can get a clearer understanding of this article.
What Is A Pressure Washer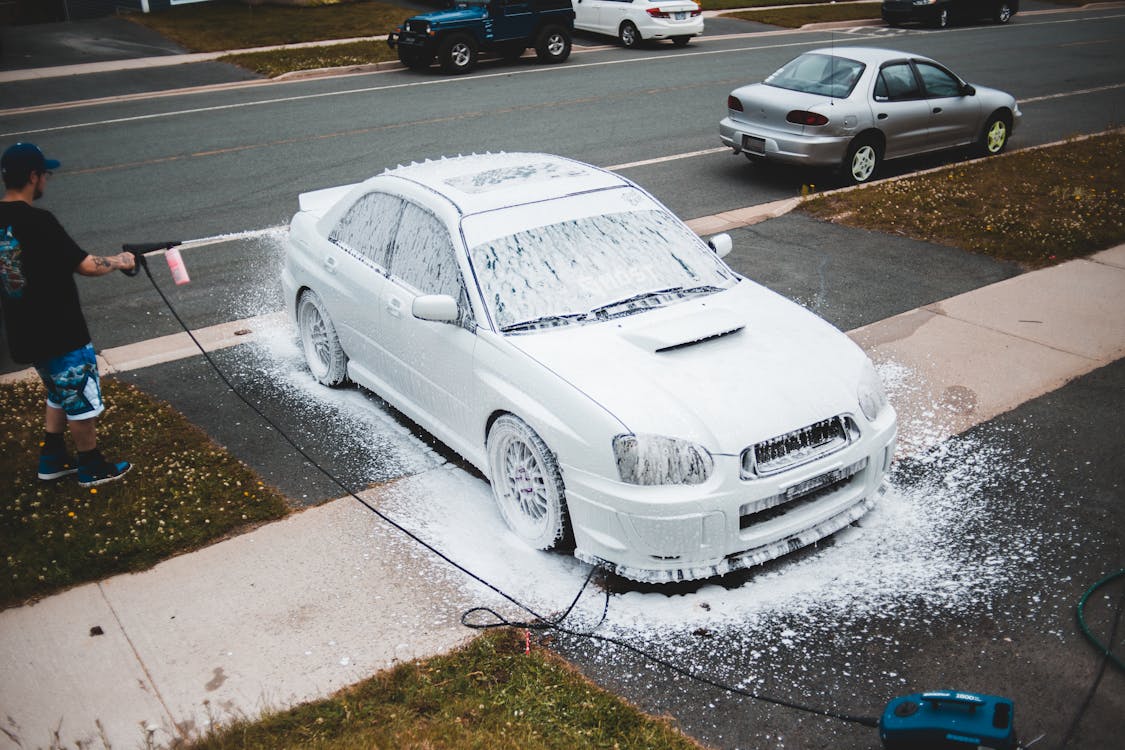 A pressure washer, or in other terms, a power washer, is a high-pressure mechanical sprayer that you can use to remove paint, mold, grime, dust, mud or dirt from surfaces such as vehicles, buildings and concrete surfaces. The volume of a pressure washer is expressed in gallons or liters per minute. The volume is often designed into the pump and s not a variable.
The pressure emitted by the pressure washer is expressed in pounds per square inch, pascals or bar. The pressure also is designed into the pump, but you can vary it by adjusting the unloader valve. If you want the pressure washer to be adequate, you should connect it to enough water supply. Water starvation may lead to cavitation, which may damage the pump elements. Before starting a pressure washer, make sure that the water supply can provide the gallons per minute of what the pump requires.
A basic pressure washer consists of a motor that drives a high-pressure water pump, a high-pressure hose and a trigger gun switch. It requires a garden hose nozzle to increase water velocity and a pressure washer nozzle to increase water pressure and velocity.
Different nozzles are available on the market; some nozzles create a water jet that forms a fan pattern, while others emit a thin jet of water that moves in spirals. Nozzles that deliver water at a high flow rate lower the output pressure. In most cases, nozzles are attached to the trigger gun.
Parts Of A Pressure Washer
Pressure washers are simple machines that function by simply pumping water with the help of either an electric motor or a gas motor. A pressure washer uses the pressure from a water source and uses pressure to accelerate the water using a very high speed via a hose fitted with a trigger gun. Let us discuss the parts of a pressure washer plus their functions to understand better how a pressure washer works.
Electric Motor Or Gas Engine
In most cases, you will find an electric pressure washer small in size while a gas pressure washer is normally big. The power is typically 3-5 kW/3.5-5.5 hp. If you want power washers for outside or big locations like workshops, you will have to go with the gas-powered pressure washers.
Water Pump
The water pump is the main part o a pressure washer; it resembles a hand-operated groundwater pump driven at high speed by an electric motor or a gas engine. When you pull the pump one way, it sucks water from the faucet, and when it pushes the pump the other way, the water squirts at a high-pressure jet.
Cleaning Attachment
You can switch to different trigger guns depending on the cleaning power you want to achieve. For example, the pressure washer has a valve that lets water through only when you squeeze the handle. You can switch to a spinning wand spray or a rotating brush to scrub where you are washing. Powered attachments are sometimes driven by the force of water flowing through them.
How A Pressure Washer Works
Pressure washers are partly garden hoses and partly air compressors. Most pressure washers use either a gas engine or an electric motor to power the water pump. Pressure washing occurs when the pump accelerates the water supplied by the garden hose to produce high pressure that ends up cleaning the surfaces.
The power washer is hooked to a high-pressure hose. At the end of the hose, there is a water gun that resembles the pressure guns that are used in car washes. When you pull the trigger, the water mixes with the air and then comes out of the nozzle.
Power washers are known to blast surfaces clean as they emit water jets that are pressurized at about 75 times the pressure of a garden hose. Or they can also spray with lower pressure like an ordinary low-pressure hosepipe if you require delicate cleaning. The power of pressure washers to penetrate dirt and grime is possible due to their ratings which are pounds per square inch.
When buying the best power washer for your cleaning needs, you should consider the two general cleaning terms. First, you need to understand that overall cleaning performance is determined by how the elements of a pressure washer work together. Then you need to understand that the higher the numbers, the faster you can clean.