Image Credit: pexel.com
The early man used an ax for woodwork; you don't have to, in this day and age- well, unless, of course, you prefer to break your back in the process. For less than $500, you can get you a pretty good chainsaw nowadays. The best chainsaw under $300 is not only more powerful and but a lot more versatile.
If you're going to spend $ 300, you want a chainsaw that does more than just lightly trim wood here and there. Ultimately, you want a tool that can handle much more in terms of cutting power and work output. A good ordinary chainsaw would be able to run small to medium branches, firewood, and trees.
Chainsaws come in different sizes and types, ranging from small, cordless/corded electric chainsaws to the good gas chainsaw options that are intended for hefty work. Often, prices are tied to the engine size, voltage, and cutting-bar length. But higher specs are not always necessarily better or suited for the job.
Here's a guide and review to help you purchase a good-quality chainsaw.
What Are the Types of Chainsaws?
a) Gas-Powered Chain Saw
Typically, gas chainsaws tend to be quicker and cut smoother compared to the electrics. Additionally, they also have a faster chain speed, thus requiring less pressure. But on the downside, most are noisier, heavier, and require regular fueling and engine air filter servicing. They also emit exhaust fumes. Light-duty gas-powered models usually cost less, but if you need one for routine tree cutting, you'll need a beefier model.
b) Corded-Electric Chain Saw
Most electric saws come with a power cord for plug-in and usually cost less than most gas-powered models. Most of these models also weigh less and are effortless to start, but on the downside, they also have slower sawing speed. This limits them to the light-duty chores, so you can keep them tethered to the nearest power outlet. You'll need a 14-gauge or heavy 12-gauge extension cord for the amperage needed at optimal performance.
c) Cordless Electric Chain Saws
A cordless chainsaw runs on battery power. But it might actually cost more than most gas saws, but the slower speed and short run-time per charge makes a cordless chainsaw best for light-duty sawing. Typically, battery-powered models have bar lengths of 12 inches.
d) Electric Lopper
Alternatively, instead of a chainsaw, you could consider a light-duty lopper. This cutting tool comes with nifty safety features such as mounting 2-ft away from the handgrip and shielding within safety jaws. Lighter models make it easier to reach the cut, especially if you're planning to use the optional extension pole. Some models also feature a retractable blade for safe storage.
What Are the Key Chain Saw Features You Should Look At?
Safety, convenience, and ease of use are top on priority when it comes to chainsaw features. Modern chainsaws comply with the voluntary safety standards, including tests such as tests for kickback.
Reduced-Kickback Chain Brake
The best chainsaws come with extra guard links and a minimally-aggressive cutting profile that helps keep the chain from cutting too deep because it could cause a kickback. In addition, most chain saws come with a narrow tipped bar or nose to help limit the cutting edge that generates the most kickback.
The built-in chain brake is meant to instantly stop the chain when the chainsaw encounters a kickback, or the front handguard is pushed forward. Most electric and gas-powered chainsaws now have one.
This is a metal extension below the guide bar that helps keep the thrown chain from flying back towards you. Most models should have it, especially if the chain is too loose.
Most chainsaws now come with a separate palm switch that you must press before the throttle trigger can engage.
Even the low-price chainsaws now come with this must-have device. It's meant to let you continuously work while keeping both hands firmly on your chainsaw. Additionally, a well-oiled bar and chain doesn't overheat or wear out prematurely.
These are the sharp spikes that are near the base of the bar, which bites into logs while also serving as a fulcrum. Most chainsaws now also include this simple but important feature. Generally, metal spikes work better than plastic spikes.
Tool-Free Chain Tensioning
This is a hand-operated wheel-and-crank mechanism that conveniently unlocks and locks the chain bar while moving it in and out so that you can easily adjust the chain tension without needing a wrench or screwdriver.
Most gas chainsaw models come with metal springs and rubber bushings between the engine and handlebar and chain to minimize vibration- for safety and less fatigue.
What Chainsaw Safety Equipment Should You Use?
Leg protection, e.g., chaps or cut-resistant pants
Helmet for protection
Cut resistance gloves with an extra grip
Eye protection that comes with side shields
Hearing protection, e.g., earplugs or earmuffs
Steel-toed boots or shoes with nonskid soles
So let's get started.
Best Lawn Mower Under $200
| Award | Design | Chainsaws | Retailer |
| --- | --- | --- | --- |
| Best Chainsaw Under $300 | Best Pick | | Check Price |
| Best Chainsaw Under $300 | Staff Pick | | Check Price |
| Best Chainsaw Under $300 | Budget Pick | | Check Price |
| Best Chainsaw Under $300 | | | Check Price |
| Best Chainsaw Under $300 | | | Check Price |
Husqvarna 16 Inch 440e II Gas Chainsaw- Best Gas-powered Chainsaw
Best Pick
Best Chainsaw Under $300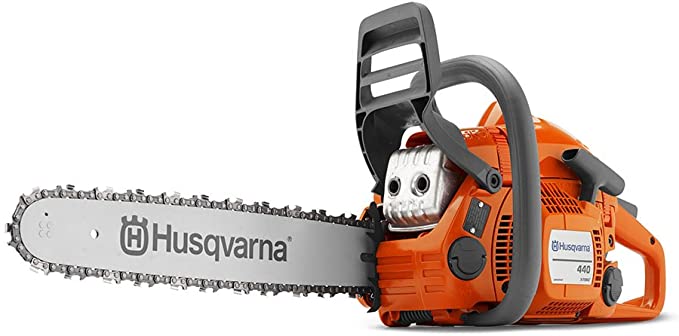 Pros
Great fuel efficiency
Durable chainsaw construction
Powerful 40.9 cc engine
Nifty features for great value for money
Affordable price
Tool-less chain tensioning system
Easy to use
Simple start
Cons
Relatively short blade length
Quite heavy
Engine doesn't stay warm between uses
This is a gas-powered chainsaw designed with DIYers and professional woodworkers in mind. It's quite easy to start and use. This is a powerful chainsaw that comes with a 40.9 cc-powered engine, which means it's built to cut through most trees without any issues.
Husqvarna 440e II also comes with a 16-inch bladeto compliment its engine. At full tank, this gas chainsaw will give 2 hours' worth of work approximately at full power. As one of the best chainsaws overall, it combines its stop/start switch into one easy-to-use mechanism, the Smart Start. Additionally, it has a fuel pump that's connected with its Smart start system function for a quick and easy to start at minimum effort.
This gas chainsaw also comes with a nifty air cleaning system that's powered by the centrifugal air cleaning system in its Air Injection system. Through this system, debris and dust are blown away before it even reaches the chainsaw's air filter for reduced air filter cleanings. Gas chainsaws are generally heavier, and so is the Husqvarna 440e II. However, compared to other gas models, this is the best gas chainsaw that also comes at an impressive price range.
WEN 40417 40V Max Lithium-Ion 16″ Brushless Chainsaw – Best Cordless Electric Chainsaw
Staff Pick
Best Chainsaw Under $300

Pros
Affordable price

Brushless motor for minimum noise and overall maintenance

Battery-powered and uses a 4Ah battery plus charger

One-button push-starting system

Durable battery

Lightweight model that's easy to handle

Comparably powerful as a gas chainsaw

Automatic oil system with lower fuel consumption

Tool-free blade changing system
Cons
No anti-vibration system

Lacks comfort features
With a durable 21-inch cutting deck size, this Greenworks corded lawn mower is equipped for tall grass a
The WEN 40417 40V is an electric cordless chainsaw that comes in a lightweight design but actually packs quite a punch. It comes with a chain that runs at roughly 49 feet per second. The electric brushless motor in this chainsaw helps it run at and for overall chainsaw maintenance that's next to none. Since it's a battery-powered saw, you also get a 4.0 Ah lithium-ion battery that takes roughly 2 hours to charge for almost 100 cuts.
Generally, electric chainsaws are easier to use and manage, and so is the WEN 40417 40V. It weighs 12 pounds, making it one of the lightest chainsaws on this list. This battery-powered chainsaw comes with an easy chain tensioning adjustment system, tool-free blade change, and an automatic oiler. As the best cordless chainsaw on the list, it also comes with a 2-year warranty.
Poulan Pro PR5020 2-Cycle Gas Chainsaw -Best Heavy-duty Chainsaw
Budget Pick
Best Chainsaw Under $300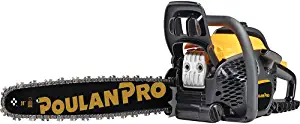 Pros
Heavy-duty and designed for thick, hard, and bigger woods and trees
Easy pull Start system
Efficient system that requires 20% less gas and gives off 70% less emissions
Automatic oiler system
2-year warranty cover
Cons
Doesn't have comfort features
Not a tool-free chainsaw
Relatively heavy
The Poulan Pro PR5020 is a heavy-duty 2-cycle gas chainsaw that comes with a 20″ blade and runs on a powerful 50 cc engine. Unlike battery-powered chainsaws, this chainsaw is built for thick, hard, and bigger fire wood and trees. It also comes with an easy and durable Start pull system that's shown to reduce the pull difficulty by 30%. In addition, the combined Start/Choke system makes the chainsaw easier to start and reduces chances of engine flooding as well.
Unlike other chainsaws, this Poulan has one of the most powerful and efficient engine systems with 20% less fuel consumption rates. It also produces a stunning 70% less emission, so it's also a great option for people looking for an environmentally friendly gas chainsaw. It also comes with an automatic oiler, but you'll need tools like that in a lawnmower to change the spark plugs, blade, or chain. Lastly, it also comes with a 2-year warranty.
Makita-UC4051A 16″ Electric Chainsaw- Best Corded Electric Chainsaw
Best Chainsaw Under $300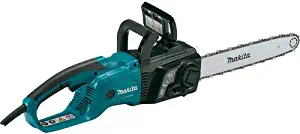 Pros
Powerful enough to cut through different sized wood but most suited for small trees
Motor automatically scales back on power to protect itself from burnouts
Comfort features
Tool-free blade and chain access
Dedicated oil tank capacity measure, to alert when low
Automatic oiler
Cons
Short 16″ blade makes that's most suited for smaller jobs
Relatively pricey
The Makita-UC4051A 16″ electric chainsaw cuts close to 48 ft per second with a motor that has a built-in current limiter to protect it from burnouts. As a safety measure, if the Makita-UC4051A chainsaw becomes overloaded, the engine automatically scales back on power. Thus could be a little frustrating when working through thick trees, but it also helps increase Makita's lifespan by significant margins.
The Makita-UC4051A electric corded chainsaw comes with comfortable features, such as rubber handles that perfectly fit well in hand. Unfortunately, it also doesn't come with any anti-vibration features to help increase your staying power. But this would make sense since this 16″ electric corded chainsaw isn't designed for big jobs; it's most suited for small trees.
You also get tool-free access to the blade and chain and a dedicated oil tank capacity measure to alert you when you're running low. Overall, this is the best electric chainsaw in the corded chainsaw category that comes with a 3-year warranty cover.
WORX WG303.1 14.5 Amp 16″ Electric Chainsaw-Most Affordable Corded Chainsaw
Best Chainsaw Under $300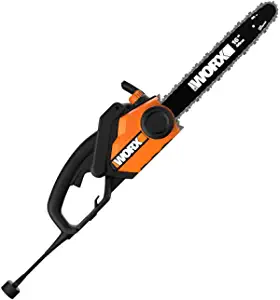 Pros
Affordable price for budget buys
Comfortable, rubberized handles
Automatic oiler and oil level indicator
Automatic chain tightening system
Lightweight design
3-year warranty cover
Cons
Not suited for big jobs

Worx doesn't sell its replacement parts
Equipped with a 12-amp motor, this mower delivers the power of a gas-powered lawn mower. The mower d
The WG303.1 14.5 Amp Worx chainsaw cuts at a rate of 40 ft per second with a 16″ blade, meaning that this chainsaw is best suited for smaller jobs. It also comes with rubberized handles but doesn't come with anti-vibration features. The biggest flex here is the fact that it's a lightweight chainsaw at just 11 pounds, making it the lightest chainsaw on the list.
Worx also includes an automatic oiler with oil level indicators. This compact chainsaw also consists of a patented feature that helps prevent overtightening of the chain. This comes in handy if you're not so familiar with chainsaws and don't know how tight the chain should be.
Additionally, this electric chainsaw comes with a built-in oiler that shows you exactly how much oil is in the reservoir. The downside, however, is that Worx doesn't sell its replacement parts, but it does come with a 3-year warranty cover.
What Else Should You Know?
i) Gas and Oil Mixture For Gas Chainsaws
A gas-powered chainsaw that will require a gas and oil mixture to run will need a 2-cycle oil mixed with gasoline at its specified amount. Often, the blend is at 40: 1 gasoline to oil or 50:1 gasoline to 1 oil.
ii) Amperage, Gauges, and Cords
Some corded chainsaws need the right cord for durability since cords that don't allow enough power will cause the chainsaw engine to strain and then breakdown sooner than it should.
What to Consider As You Buy the Best Chainsaw Under $300?
A) Power
If you're opting for gas-powered chainsaws, go for anything above a 40 cc which is suited for small to medium trees.
If you prefer corded chainsaws, an engine rated 14 A at least is a good pick. On the other hand, a cordless chainsaw or battery-powered chainsaw that has anything between a 20-40V lithium-ion battery is pretty good
B) Ideal Bar Length
The choice of your chainsaw's bar length will dictate the maximum diameter of the material its meant to cut. For instance, a chainsaw with 24 inches bar length can effectively and safely cut a maximum diameter of 48″.
C) Handle
The handle is possibly one of the most important determinants of what you choose. Generally, you need a large and ergonomic handle so that it doesn't cause hand fatigue. Moreover, for maximum comfort, it's best to go with models that have soft rubber on the handle.
Frequently Asked Questions on the Best Chainsaw Under $300
What does MS or MSA mean on a STIHL chainsaw?
STIHL chainsaw models have their names starting with MS, MSA, or MSE. MSA is used to indicate that it's a battery chainsaw, while MSE tells you that it's an electric chainsaw model.
Why does a chainsaw have a skip tooth chain?
Typically, a skip chain comes with fewer cutting teeth compared to the conventional chain for less drag on its chain, which means less power is needed to cut through the log.
Summary of the Best Lawn Mower Under $200
| Award | Design | Chainsaws | Retailer |
| --- | --- | --- | --- |
| Best Chainsaw Under $300 | Best Pick | | Check Price |
| Best Chainsaw Under $300 | Staff Pick | | Check Price |
| Best Chainsaw Under $300 | Budget Pick | | Check Price |
| Best Chainsaw Under $300 | | | Check Price |
| Best Chainsaw Under $300 | | | Check Price |